Visit for more information or to donate to help John Alderete's fight
December 3, 2013
Paul Gilbert and Bruce Bouillet on the cover of Young Guitar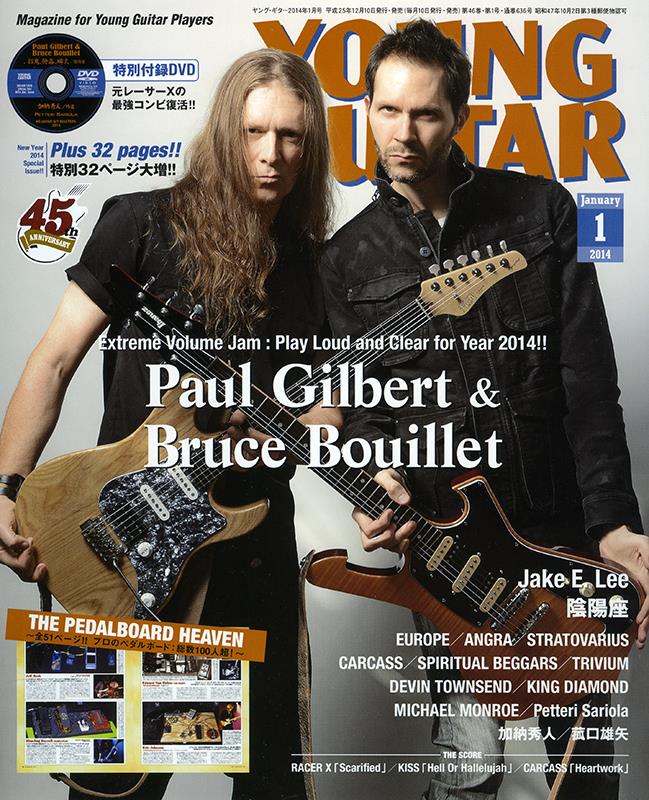 Congratulations to Paul and Bruce making the cover of Young Guitar magazine!
---
August 2012
John Alderete Launches New Site - Pedals And Effects
Renowned rock bassist Juan Alderete announces today the launch of his newest endeavor, www.PedalsAndEffects.com, a comprehensive site covering a range of music-related topics with a focus on the pedals and effects used to create his signature sounds. With a career spanning over 25 years and covering genres such as hip hop (Dr. Octagon), heavy metal (Racer X), progressive hard rock (The Mars Volta, Omar Rodriguez Lopez Group), rock (Vato Negro, B'z) and alternative (Big Sir), Alderete brings a wealth of knowledge to one location for fans, musicians and aspiring bassists of all ages.
With instructional videos covering everything from the routing of stompboxes to manipulation of effects, exploring various amplifiers and other gear, Alderete hopes to share his skills and knowledge with the fans and musicians who have asked him multiple questions over the years. Because pedals and effects are used by various instrumentalists- guitarists, vocalists, keyboard players, bassists- the site is for any musician wanting to explore the manipulation of their sound using these tools. "I've been playing with pedals since the early '90s and was always looking for something to make my bass sound like an 808, synthesizer or an unknown instrument. Through constantly seeking out new and vintage pedals, trying out different techniques- basically trial and error- I've learned how to get the sounds I want and I'd like to help kids and other musicians to find their sound, too. My sound is constantly evolving, and that's where the fun is- it's never ending- and I'd love for aspiring musicians to experience that as well."
Pedals And Effects will also serve as a homepage for Alderete and will include updates on all Alderete-related news, a blog, photos, tour updates, and forum for fans to discuss music and gear.
---
May 20, 2012
NAMM 2009 - New songs!
Adding some new songs from the 2009 NAMM show.
Technical Difficulties

Blowin' Up The Radio

---
February 20, 2011
John Alderete Video Interview by Janek Gwizdala
John Alderete is interviewed by amazing bass player, Janek Gwizdala on his blog site. John talks about technique, effects and of course...some Racer X.
Part I:
Click here to watch
Part II:
Click here to watch
---
November 19, 2010
Scott Travis in photobook
Scott Travis is one of the featured drummers in a new book called, A Drummers Perspective.
"A Drummer's Perspective is a stunning collection of live action photos celebrating the world of drumming.
This large format book brings together some of the finest unseen photographs of legendary drummers. It is a unique collection of pictures taken by the author David Phillips, who has been given rare access on stage and behind the scenes to many of the biggest bands in the world. "
You can order your copy here.
---
May 16, 2010
RIP

Rock on
---
April 3, 2010
Tahoe Metal Bash Videos
On March 27, the annual Hatchett Brothers Metal Bash took place in Lake Tahoe. Scott Travis (Racer X/Judas Priest), Whitfield Crane (Ugly Kid Joe/Another Animal, Klaus Eichstadt (Ugly Kid Joe) and Jeff Martin (Racer X/Badlands) showed up to play heavy metal with the Hatchett Brothers of Standard Films Fame. The non-Racer X songs can be found on my personal YouTube channel, and the Racer X songs can be found on the offical Racer X YouTube Channel.

Snakebite
---
March 5, 2010
Tahoe Metal Bash
Squaw Valley and Stoli Vodka present the Annual Head Bangers Ball at the Olympic Village Lodge in honor of snowboard film legends, Mike and Dave Hatchett. Join the Hatchett Bro's band FORTRESS for a night of heavy metal, head-banging and skin-tight leather pants with special guests Scott Travis from Judas Priest/ Racer X, Jeff Martin from Racer X, along with Wit Crane and Klaus Eichstadt from Ugly Kid Joe.
Doors open at 8pm. 21+ only. Don't forget your SPANDEX and MULLETS!!!
$12 at the door. $10 at Alice's Market in the Village or at the Cable Car Ticket Window.
---
March 4, 2010
Jason Kahrs Memorial Song
In honor of our loss to Jason Kahrs, the guys on the board have done a song called Jason's Guitar Saddle. The song features the solo work of 18 members of the board.
Thanks to the dedication of our members, Jason has a fitting tribute. Thank you to everyone. Here is a list of of the players with their time placements added. This way you will know who is playing what and when exactly their solos start.


1. Pao - 0:01
2. Sir Robin - 2:17
3. xjustice09x - 3:14
4. fatigueofheart - 4:15
5. AussiePGFan - 5:19
6. Sonnyrazor - 6:19
7. LoQ - 7:19
8. PGA1000 Dude - 8:21
9. Radius540 - 9:23
10. tim - 10:25
11. Esper - 11:26
12. chelskiman - 12:29
13. JulianDoom - 13:33
14. Zae - 14:33
15. Acid Wire - 15:33
16. Shreddy Krueger - 16:35
17. rreeves - 17:38
18. MRohr - 18:41

Thanks to Pao for hosting this forum jam for Jason.
---
October 16 , 2009
Bass Player Live Concert Event!
Join the team of Bass Player LIVE! at this exclusive private concert at the popular Key Club in the heart of Hollywood. Witness the presentation of Bass Player magazine's Lifetime Achievement Awards to session legend Rocco Prestia and jazz legend Charlie Haden.

Rock Icon Juan Alderete just added to Bass Player LIVE! line-up with Vato Negro, featuring Omar Rodriguez Lopez and Thomas Pridgen of The Mars Volta!

Juan Alderete will perform with Vato Negro, an experimental groove-noise group and side-project of The Mars Volta. Joining him on stage will be the mercurial Omar Rodriguez Lopez, singer and guitar player of The Mars Volta, and Thomas Pridgen, the sensational drummer voted Best Up-and-Coming Drummer by Modern Drummer magazine.
Bass Player Lifetime Achievement Award and Performance:
Charlie Haden with pianist Alan Broadbent

Vato Negro featuring Juan Alderete

Bass Player Lifetime Achievement Award and Performance:
Rocco Prestia Quintet (with Dave Garibaldi, Larry Braggs, Roger Smith and Mark Harper)

All-Star Jam led by Steve Bailey
Saturday, October 24
7:00PM Doors Open at Key Club
9039 West Sunset Boulevard, Hollywood, CA
For more information click here
---
April 07 , 2009
Metal Bash 2009
It's the 3rd annual Metal Bash in Lake Tahoe, CA. This year features Whit Crane from Another Animal/Ugly Kid Joe, Jeff Martin from Racer X/Badlands and Scott Travis from Judas Priest/Racer X. The show is at Squaw Valley Ski resort, show is 21 and older and starts at 9PM.
The show will feature songs by Iron Maiden, Judas Priest, Racer X, Another Animal, AC/DC and many more.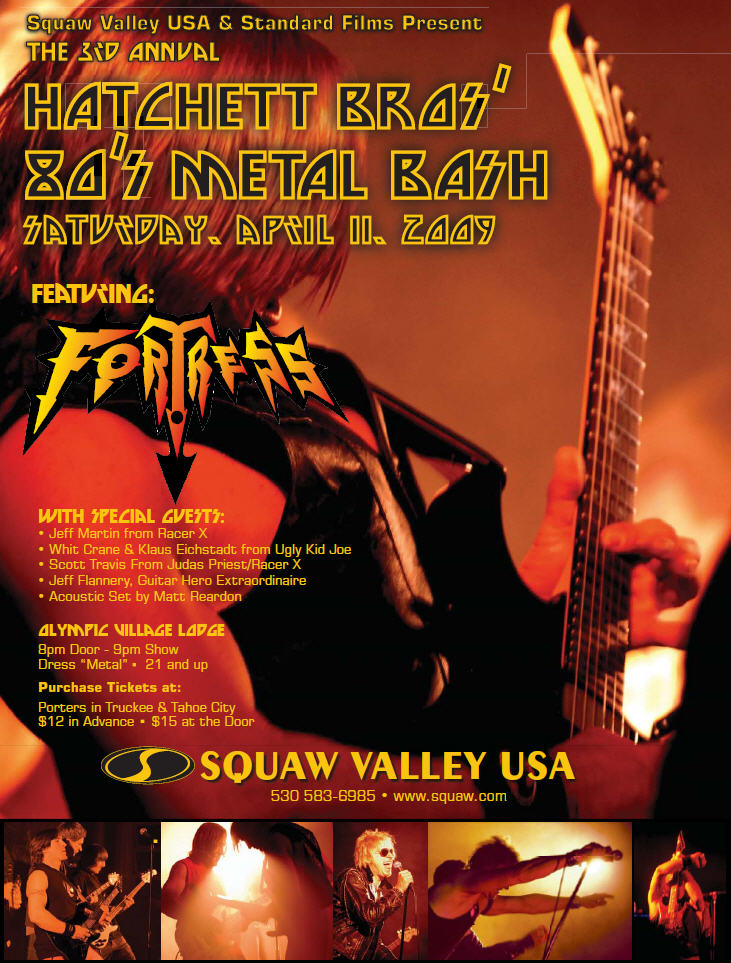 ---
February 09 , 2009
Congratulations - John Alderete - Grammy Award Winner!
John Alderete is now officially a Grammy Award winning artist!! A warm and heartfelt CONGRATULATIONS goes out to one of the best bass players on the planet. Tonight, as member of the Mars Volta, they won a grammy for the song Wax Simulacra. The victory was bitter sweet for us in Racer X land, as Scott Travis with Judas Priest was also nominated.
Once again.....we are very proud!
---
January 04 , 2009
Paul Gilbert NAMM Signing Schedule
In addition to the Racer X show on January 17, 2009 for Ibanez, Paul Gilbert will also be signing autographs at his endorsee booths.
Here is Paul's NAMM schedule:
HomeBrew Electronics (2:00 pm Fri)
Ibanez Guitars (3:30 pm Fri)
Marshall Amps (10:30 am Sat.)
Ernie Ball Strings (Noon Sun.)
Alfred Publishing (1:00 pm Sun.)
---
November 25 , 2008
Racer X - Live Show at NAMM 2009
The last Racer X show in the US, was May 25, 2001. It was filmed for the live DVD, Racer X - Live At The Whisky - Snowball Of Doom.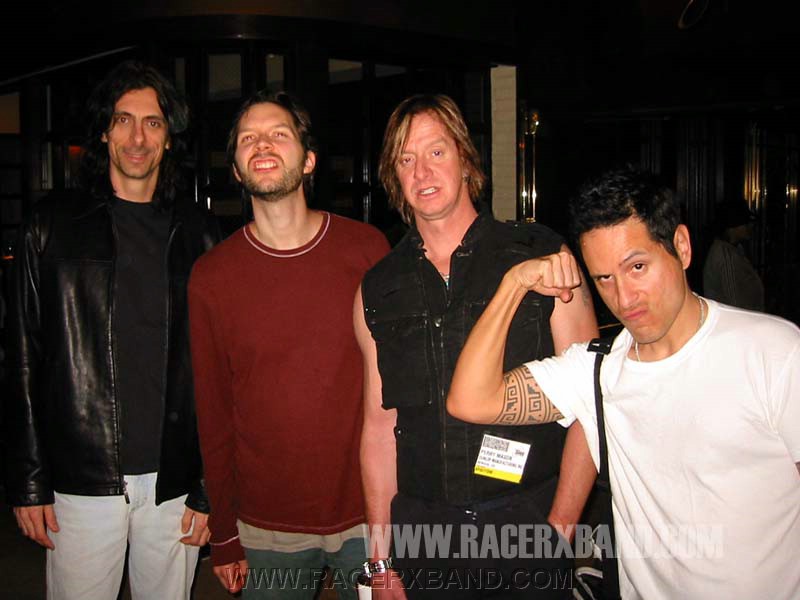 2003 NAMM - The last time all members were together.
Paul Gilbert announced today, that Racer X will be playing a live show at the 2009 NAMM for Ibanez. "Ibanez guitars is celebrating the 20th anniversary of my PGM guitar with a concert at the NAMM show", stated Paul.
The show will be on Saturday, January 17, 2009, nearly 8 years since their last show, at the Sheraton Park Ballroom. The show will unfortunately not be open to the public.
Paul said, "It is very exciting for me to be the featured artist for Ibanez this year, so I am glad that I can do something special for this concert. I can't think of anything better than a killer set of RACER X!". He further added, " I can't wait to play some killer heavy metal with my favorite metal band!"
Andy Timmons and his band will open the show, followed by a solo set from Paul Gilbert, and finally Racer X. The Racer X lineup will consist of Paul Gilbert (solo artist), Scott Travis (Judas Priest), Jeff Martin (formerly Badlands and MSG) and John Alderete (The Mars Volta).
---
July 25, 2008
Jeff Martin Off the Dokken Tour
If you were expecting to go see Jeff, save your money.
May 18, 2008
Juan On Resonate Cover
Juan Alderete is on the cover of Resonate magazine this month! Check it out, go to ResonateMag.com to read and hear from John. The magazine can be read online, and features video of Juan explaining his Mars Volta rig.
Be sure to really click around. The magazine is very interactive, and contains many mini-videos and info buttons.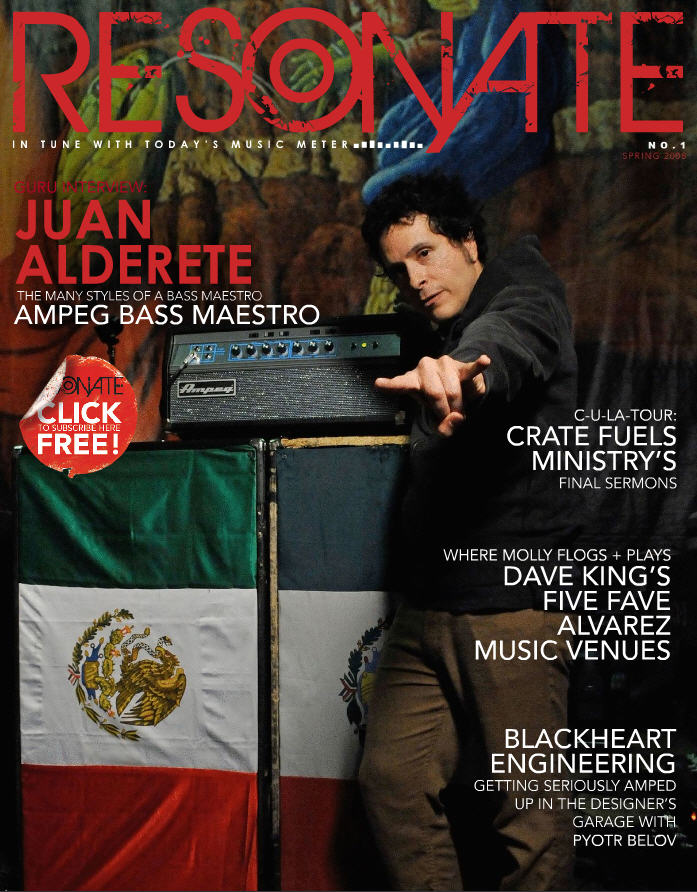 ---
March 21, 2008
80's Metal Bash in Lake Tahoe
Jeff Martin and Whitfield Crane (Another Animal/Ugly Kid Joe) will be featured at an 80's Metal Bash at Squaw Valley on March 29, 2008. Jeff and Whit will be playing with the Hatchett Brothers of Standard Films (Snowboarding/Warren Miller), as well as others for an 80's Metal party. "We're just trying to play really loud and melt some of this damn snow", said Martin.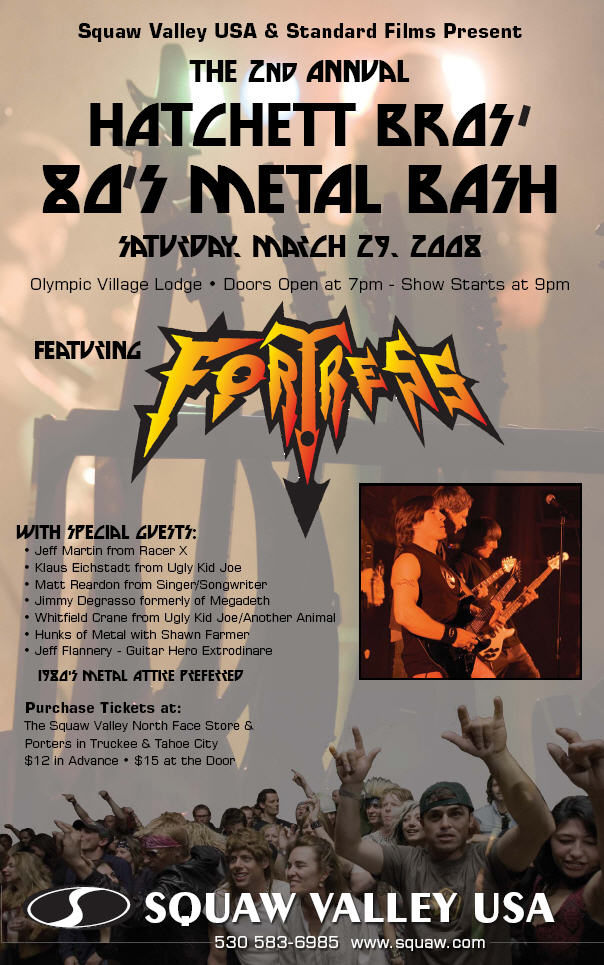 ---
October 25, 2007
New Mars Volta Coming!
The new Mars Volta CD is coming. It's called The Bedlam In Goliath. The band has a new drummer, who is frankly...SICK! RIDICULOUSLY SICK!
The band has released a new video for the song Wax Simulacra. Check it out!
---
October 16, 2007
John Alderete's New Sponsor!
John Alderete is proud to announce his new official bass sponsor, Lakland. Lakland has been in business since 1994. John is very excited about the relationship, as Lakland will be giving him the personal attention to his basses that he desired. In addition, Lakland will be taking over production of his custom signature series.
Look for more information, when it becomes available.
Lakland is well respected musical instrument manufacturer that only makes bass instruments. The company's beginnings revolve around vintage bass restoration. As per the site, it is pronounced, "Lake Land".
---
September 6, 2007
Happy Birthday
Happy Birthday Scott Travis.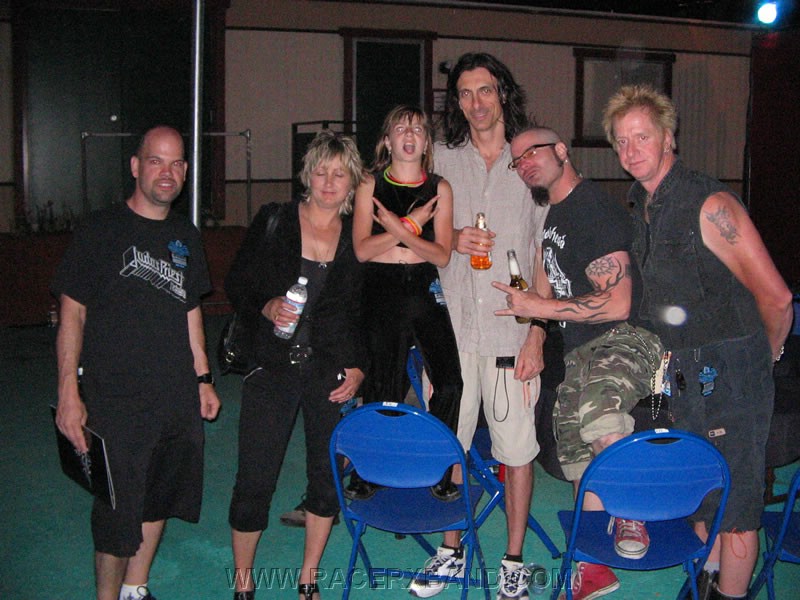 ---
September 5, 2007
Happy Birthday
Happy Birthday John Alderete! To celebrate John's birthday, please support MPD Research Alliance.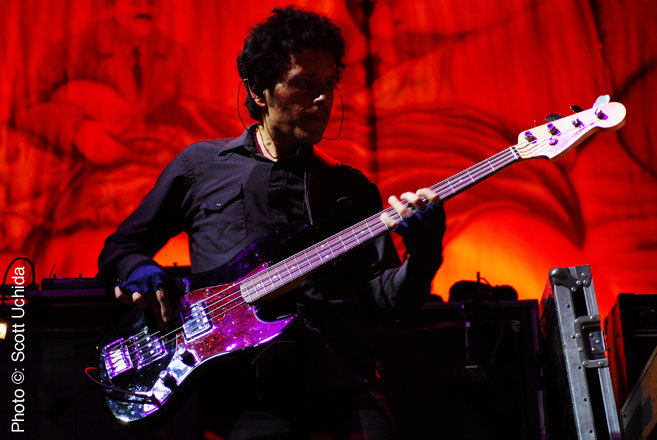 ---
July 20, 2007
Jeff Martin and Whitfield Crane
Last weekend, Jeff Martin and I hung out with Whitfield Crane up in Tahoe. You will remember Whit as the lead singer for Ugly Kid Joe.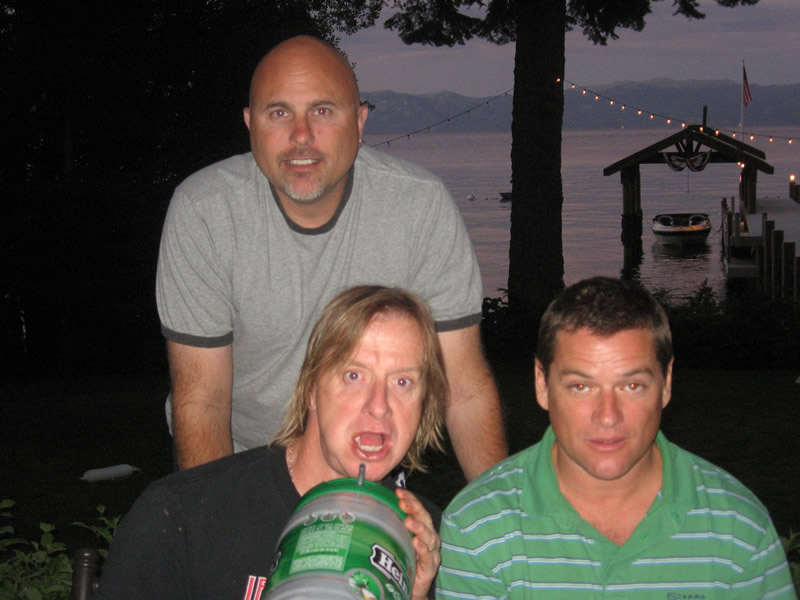 Ken Hower, Jeff Martin and Whitfield Crane
Whit has a new project called, Another Animal. Another Animal is all of Godsmack, without Sully. Whit will be handing vocals. The single is due out August 28, and the CD released on October 2nd.
---
July 15, 2007
Sponsors needed!
Guys...
Here's one of your first chances to help John, besides making a personal donation to MPD. Lisa Smith-Batchen is an ultra marathon runner....not exactly sure how you get the title Ultra-Marathon, but it sounds tiring.
If you can, help Lisa, help find a cure.
---
June 4, 2007
Racer X South Park Characters
South Park! Everyone loves South Park. So recently, Jeff Martin and I were goofing around with a "create your own South Park" character program, and we created South Park Characters for everyone in Racer X...we laughed a lot doing this.
| | |
| --- | --- |
| | |
| Scott Travis | John Alderete |
| | |
| Bruce Bouillet | Jeff Martin |
| | |
| Paul Gilbert | Webmaster - Ken |
---
May 1, 2007
A Special Message from John Alderete to his fans
To my friends,
I have recently been diagnosed with a rare blood disorder called Polycythemia Vera. It is classified as one of the Myeloproliferative disorders. Myeloproliferative disorders are an imbalance of the platelets, white blood cells, or red blood cells in the bone marrow, which may result in serious complications that include enlargement of the spleen and liver, anemia, bleeding, stroke, heart attack or leukemia. The survival rate varies greatly, but the key is working closely with my physician to manage my health.. You can read more about the condition at http://www.mpdfoundation.org/index.htm
I am making this announcement public early because of the urgency of much needed donations! My disorder is considered an orphan disease meaning it affects fewer than 200,000 people. These disorders have been noticeably underserved with respect to research funding. Pharmecutical companies do not see much profit in 200,000 patients and the goverment tends to hand money to the bigger diseases plaguing our society.
I have agreed to help the MPD Foundation by asking all my friends and fans to become aware of this problem. You can reach out to your friends, and they can reach out to their friends until we have an army of supporters! Together we can help find a cure. You can help me and others living with this disease by donating to: http://www.mpdfoundation.org/donations.htm
As for me, I am doing awesome. I feel great and ready to rock! I am relieved at this point to know exactly my condition, so that my doctor at the UCLA Medical Center can begin treatment immediately in order to mitagate any future symptoms. I will be on a drug called Hydrea to get my blood counts to normal levels. I have been told that the overwhelming majority of patients do not experience any physical side-effects from this treatment, which means - I will continue to rock the universe for you!
This is just the beginning of my attempts to raise money and awareness. I will keep you all posted on my endeavors and progress.
Love,
Juan
---
March 16, 2007
Paul Gilbert at Reno G3 2007
Bruce aims his Les Paul at Reno G3! Jeff Martin, myself and family attend the G3 Show in Reno. Check the photo page to see the pictures from the show! Paul rocked the house!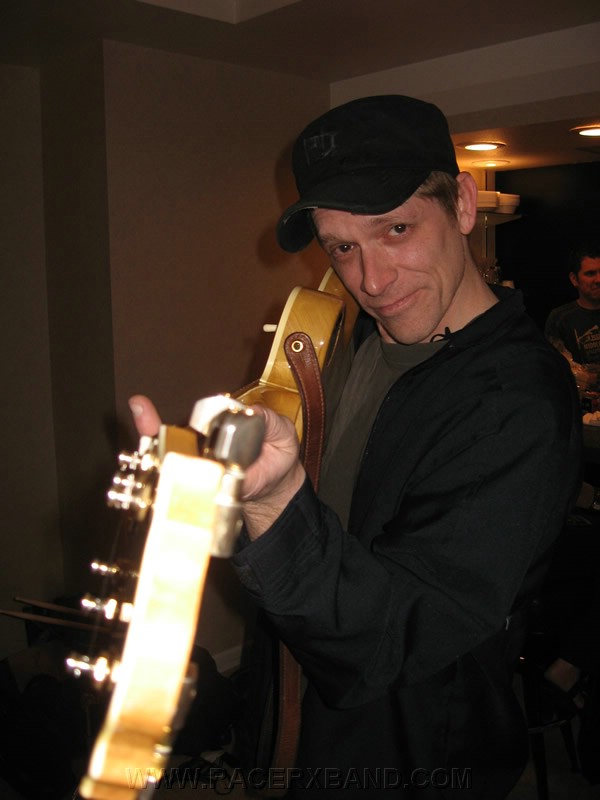 ---
January 24, 2007
Paul Gilbert Officially in G3 2007
The 2007 incarnation of Joe Satriani's popular G3 tour will kick off on March 14th in Phoenix starring SATRIANI, JOHN PETRUCCI and PAUL GILBERT. The tour will play selected dates in North America throughout March and April.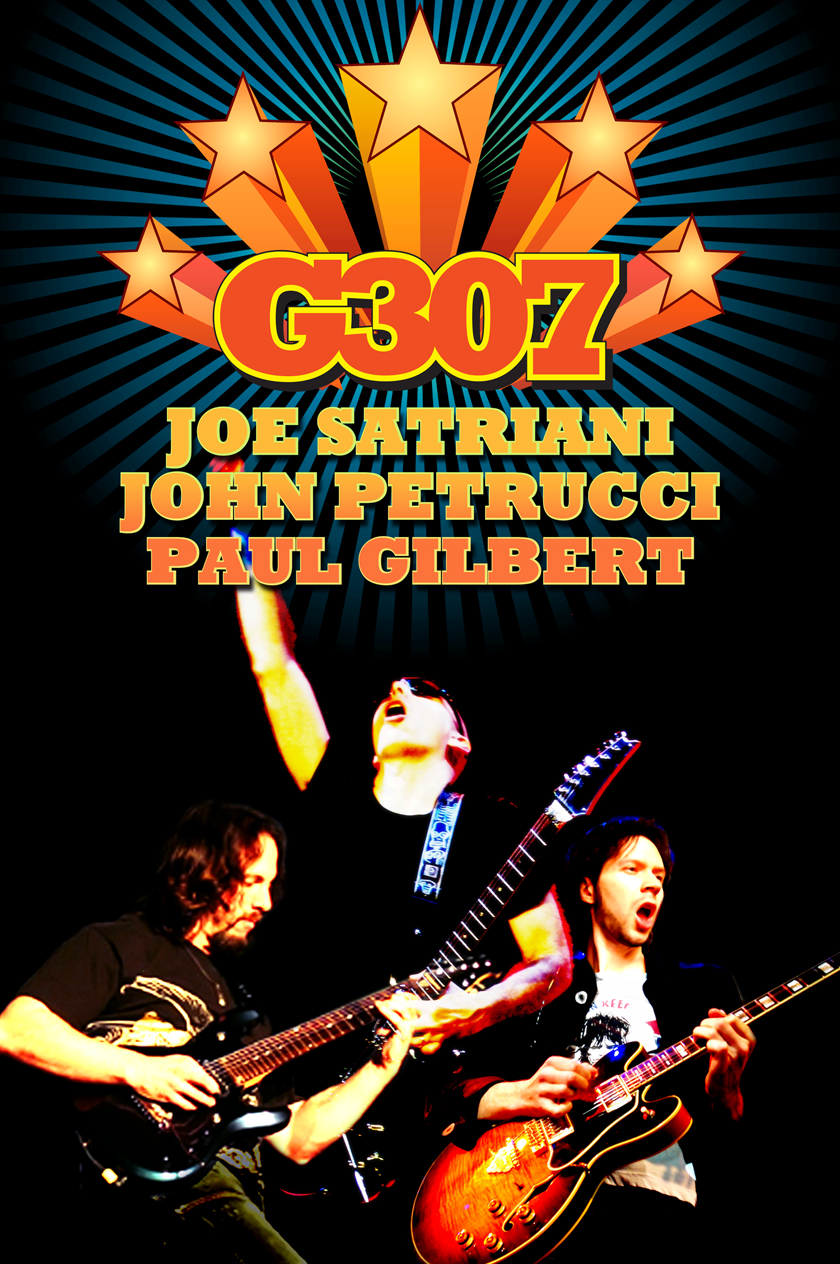 ---
December 24, 2006
John Alderete Releases a new BIG SIR CD!
As you may know, one of John's side projects is his band Big Sir. Well, John emailed me to let you know it's been released and you can get it on Amazon.com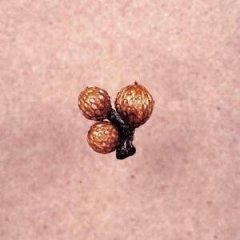 ---
December 11, 2006
Paul Gilbert Tickets On-Sale Now!
Tickets are now on sale for Paul's show at the Viper Room on January 18, 2006.
Get them directly from the Viper Room website.
---
November 10, 2006
Paul Gilbert LIVE SHOW!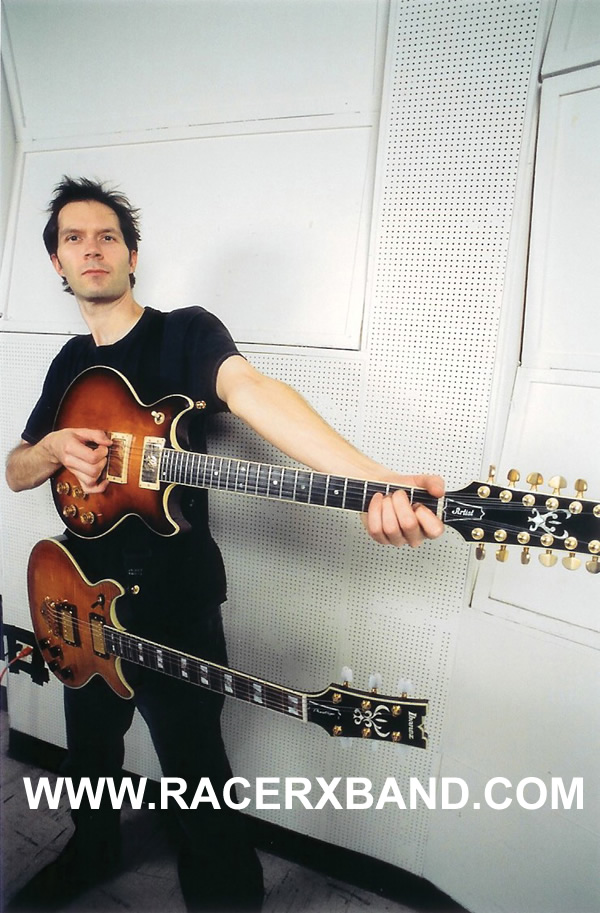 Get your insane guitar playing shoes on, because Paul is announcing that he will be playing live in Los Angeles on January 18, 2007 at the Viper Room! Paul will be playing a variety of material, but expect many songs off his new CD, Get Out Of My Yard...including the most insane 38 seconds of guitar playing ever.
Keep checking for info on second date and location for January 19, 2007.
No ticket information at this time.
---
November 6 and 9, 2006
Heavy Metal Birthday
A heavy metal birthday wish goes out to Paul Gilbert (Nov 6) and Jeff Martin (Nov 9). On Friday, Jeff meets Jason Bonhan and each show off their ring tattoos.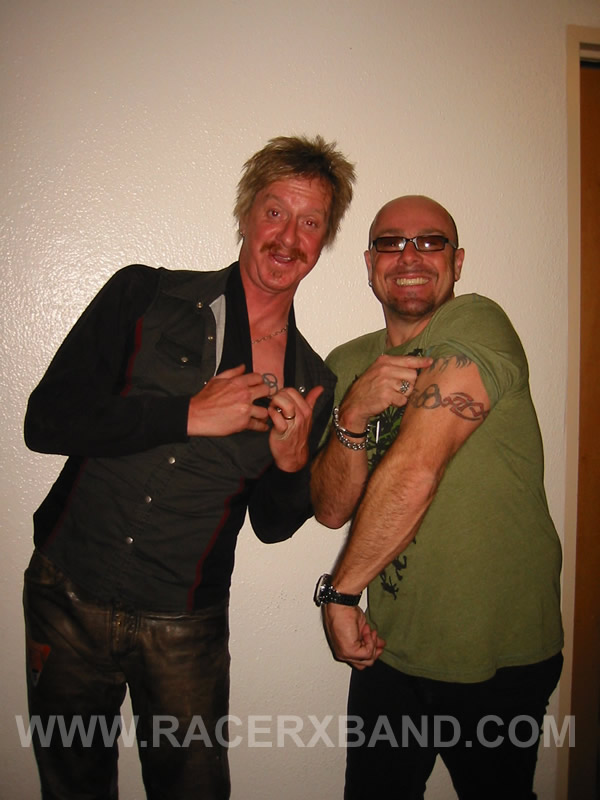 ---
September 5 and 6, 2006
Heavy Metal Birthday
A heavy metal birthday wish goes out to John Alderete (Sept 5) and Scott Travis (Sept 6). We wish them all the best on their birthday.
---
September 3, 2006
Juan Alderete Signature Series Bass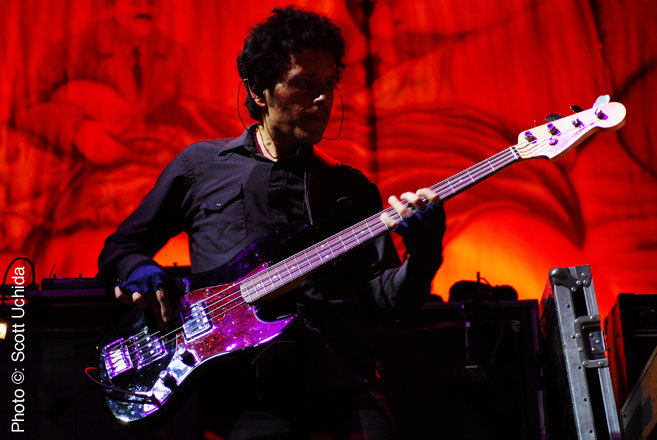 Juan Alderete's Signature Series Bass while playing with The Mars Volta
For more information, please visit the Cool Stuff page.
---
August 29, 2006
The Mars Volta
Last night Jeff Martin and I went to the Arco Arena in Sacramento to see The Mars Volta and Red Hot Chili Peppers.
Prior to the show, we hooked up with John who was busy warming up with his "Edward Scissorhand" gloves. John was having fun, but itching to get home to LA to be with his wife for a few days. After the show, TMV was busy backstage during the Chili Peppers set recording for various upcoming projects. A complete Pro Tools setup followed them everywhere on the road.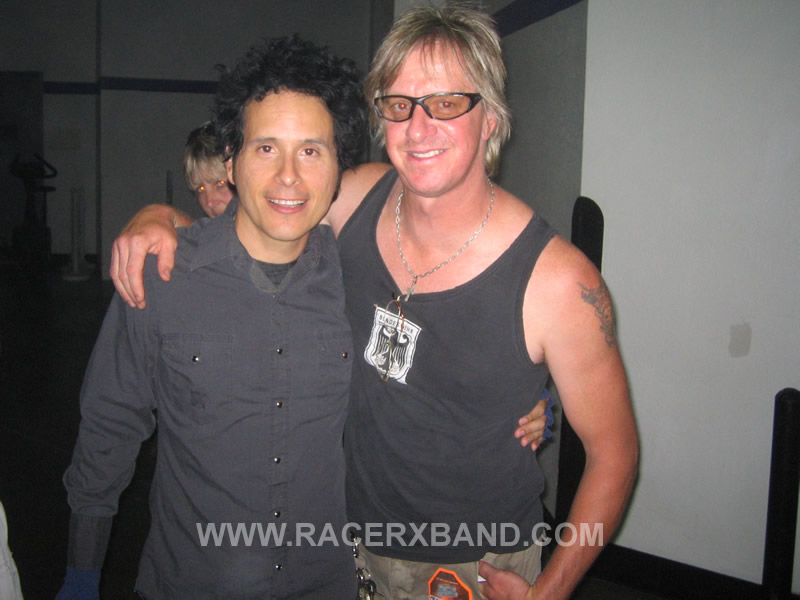 After the show, Jeff and I ran into Omar, who was pretty amped after an hour running, jumping and contorting on stage.
---
August 10, 2006
New Juan Alderete Signature Series Bass
Fender will be releasing the Juan Alderete Signature Series Bass. Made in the Custom Shop, the bass will feature the following:
Fender Jazz body
Fender Jazz 1964 re-issue rosewood fretboard neck
Hipshot Vintage tuning keys
Hipshot Dtuner
Hipshot Ultralight bridge
Fender Stack Pot volume/tone pots. (Passive)
Black body with a red tortoise shell pickguard.
Dual Dark Star pickups.
Photograph to follow soon.

---
July 18, 2006
Something new...something Old.
Thanks to TheSurgeon, I realized an oversight. I posted a bio for Jeff Martin sometime back, and forgot to let you know. So, in the interest of setting all things wrong, right again. Go to the Band link to read about Jeff's Bio.
Flash! For you old-timers, you will remember that the 2 previous versions of the Racer X site had flash intros. Well...you newbies will now travel back in time to 2001 and 2002 by clicking on the Cool Stuff link and scrolling to the bottom.
Enjoy....I think they're cool.
---
July 17, 2006
Update to Jeff's Hand
Jeff wanted to pass along to all his extended friends and fans, that his thumb has been successfully Superglued back together. The operation to reattach the ligament was a success and he nearly has back his old full range of motion to his thumb.
So thumbs up! (no pun intended)
---
May 15, 2006
Jeff Martin Injured
This past week, Jeff Martin severed his tendon on his left hand in an accident. On Thursday, Jeff had the tendon reattached by a hand specialist.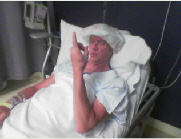 Jeff before surgery
All of us here in the Racer X family, wish Jeff a speedy and successful recovery.
---
October 15, 2005
Jeff Martin's The Fool Album Cover
Jeff just recently finished up work on the artwork for his solo release. The album will be titled: The Fool.
The artwork was done by Larry Freemantle, who has done lots of the Racer X art work.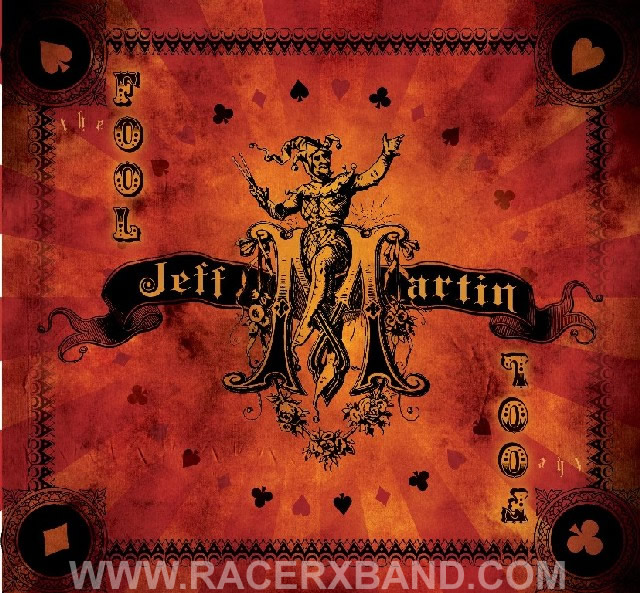 ---
September 5, 2005
Happy Birthday John
.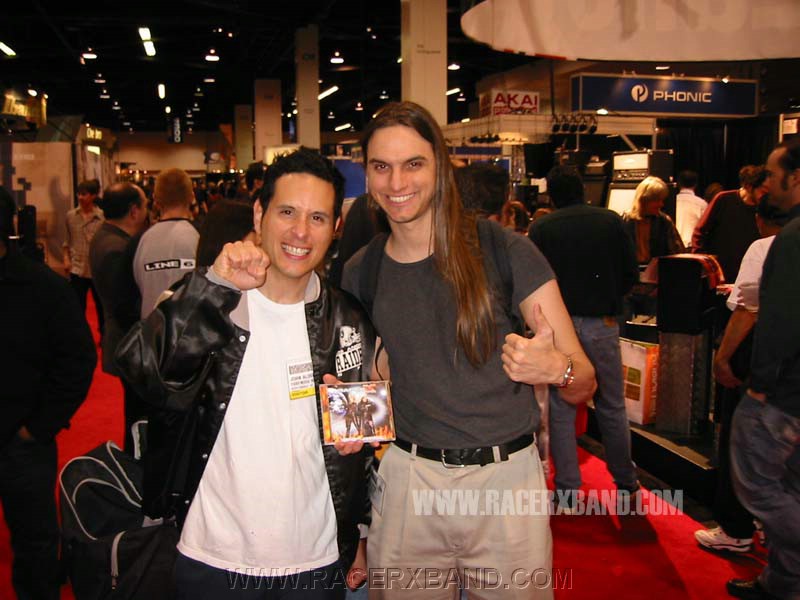 ---
August 25, 2005
Racer X Practice Session
Ever wonder what Racer X sounded like practicing? Thanks to Bruce digging in his attic and Stringskipper sending me the goods, now you can.
Check it out...Cool Stuff.
---
August 18, 2005
New Pictures up
Recently, I went to Japan to see Judas Priest at the fabled Budokan Hall. I have added the shots from Japan and the recent USA Dates.
Also up, is the lost tour. I recently found all my pictures from Jeff Martin's tour with George Lynch. Good stuff.
---
July 23, 2005
T-Shirts Sold Out
Fat lady is singing. The Extreme Volume Man shirts are sold-out. Thanks.
---
June 3, 2005
Get Well Tim Heyne
Last weekend, Tim Heyne from Union Entertainment, which manages Racer X was involved in violent act last weekend at a friends home. Tim lost his wife Jan in the shooting, and his friend Steve. Fortunately Tim survived and is slowly recovering. Paul visted Tim a couple days ago, and he is improving.
Everyone with Racer X hopes that Tim recovers fully and we share our deepest sympathy to Tim for the loss of his wife Jan.
---
May 7, 2005
Racer X Shirts Running Low On Supply
Just to let everyone know, I only have XXL left of the Racer X Extreme Volume T-Shirts. Once they're gone...They're gone. It's likely that I will no longer be selling the shirts anymore. Visit the Online Store for details on how to purchase one.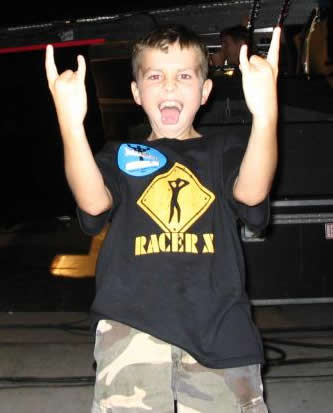 Kenan Hower models the shirt at Judas Priest
---
February 3, 2005
Scott leaves for UK
Scott Travis is heading for the UK to begin rehearsals for the upcoming Worldwide Angel Of Retribution tour with Judas Priest. The band will have about 2 weeks to get their chops down, before hitting the road.
Check the video page for an updated clip of Scott playing last summer in Sacramento. I've combined the 2 clips together...much better!
---
November 8, 2004
Video Yo Yo
Videos are down again...but I'm working on another solution.
---
October 29, 2004
Video Yo Yo
Over the month, we used 52 GIG. I have 48 GIG left for the month of October. I accidently deleted them off the site, so I'm uploading them Friday night.
---
September 25, 2004
Getting Heavier Photos
It was 2 years ago, but I finally assembled all the photos from various sources. Over 260 photos of the Getting Heavier recording sessions at Paul's house in Vegas. Enjoy!
---
August 13, 2004
Videos Down Again
Sorry, but we're over quota again. See you in September.
---
July 19, 2004
NEW SHIRTS ARE HERE!!
They're cool....They're "Loud" and you've been warned!! Go to Online Store to grab your new Racer X Short Sleeve T-shirt.
---
July 15, 2004
New Menu! New Stuff! New Bio!
New Menu. Chad completed the new menus yesterday. If you noticed goofy links, that's why. If you still have menu issues on the left, please REFRESH or clear your cache.
New Stuff. New Cool Stuff page, is reserved for Cool Stuff...like Evil Joe, Arizona, Scream..etc. Enjoy.
New Bio. Paul put finger to keys and sent a VERY comprehensive bio....including bloodtype.
July 14, 2004
Videos Down Again
8 Days was the magic number again. See you next month.
---
June 10, 2004
Scarified!
I must be living on the edge...edge of bandwidth that is. But whatever...I just added a new Scarified to the video section. It's from 1988, Omni with Bruce and Paul...double lead extravaganza. It's the whole song.
---
June 8, 2004
Videos and While My Guitar Gently Weeps
It's that time of the month. The videos are back up for awhile until I go over.
Not sure if many of you caught it, but on the Photo Page, Yellow Matter Custard photos I have an edited version of While My Guitar Gently Weeps. An "Easter Egg"...enjoy.
---
May 26, 2004
New Photos of NAMM 2004
When we took the tour of Monster Garage, they were getting ready to film the season finale, Rock 'em Sock 'em Scions. Alex warned us over penalty of death, not to publish any pictures to tip off the final show. I complied. The show finally aired in April, so I've gone back and added all the pictures, plus some shots at the Baked Potato where Paul, Jeff, Linus Of Hollywood and I saw Marco Minnemann. Marco played drums on Burning Organ. What was cool about this show, is it was progressive rock, played with almost no rehearsal, using sheet music. SICK!!
---
May 22, 2004
Videos are down
Popularity sucks? Well...the videos have certainly been popular. As many of you know, last month we were 300GB OVER our 100GB limit. I wasn't watching very carefully, and I ended up with a $462 hosting bill. Thank you to the many who helped contribute to paying this bill. I really appreciated it.
As for this month, I had been watching it pretty carefully. Over last weekend, we went over 100GB. We're currently at 25GB over, which is only about $30. No worries. But in order to not have another OUTRAGEOUS bill, I had to take down all the videos.
Thank you for your support. All the videos will be back up on June 1, 2004.
---
May 8, 2004
Videos are Back
Please go easy on the videos. If you're a regular, try not to view every single video in one shot. Pace yourself.
Thank you to all the people who graciously helped out with our rather large bill.
---
May 7, 2004
Genius II Rock Opera will be released
The second episode of Liverani's GENIUS Rock Opera will be released on May 24th , By Frontiers Records, and will include a great performance of Jeff Martin.
---
April 26, 2004
Warning: Will Robinson...Danger!
Wow...the site has been enormously popular. So much so, that we are WAY over our 80 Gig limit. In fact, we're at 216 Gig for the month. Which is why the videos are not downloading at the moment.
Thanks for making the re-launch a success. Please be patient.
Ken
---
April 11, 2004
Welcome to the new Racer X Website!
I have a lot of work to do. I have tons of stuff to redo, as well as some new stuff to put on the site.
I decided to go "old-school". So you'll notice the new color theme, bright green and pink. I passed this on to Chad, and Chad came up with about 7 different designs. Paul gave this and 2 others a thumbs up...and this was my favorite of the 3 Paul liked.
Ken
---